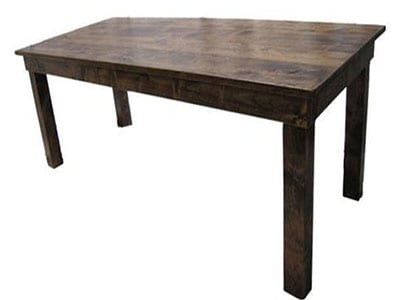 8ft Farm Table




Regular 6 Hour



$63.25



Weekend Special

Select Saturday 8 a.m., multi-day, Sunday 8 p.m. to get the weekend special. We will deliver on Friday and pick up on Monday

$110.00




Introducing our beautifully crafted 8ft Farm Table, the perfect addition to any rustic or farmhouse-style home. Measuring 3 feet in height, 3 feet in width, and 8 feet in length, this table provides ample space for family gatherings, dinner parties, or even as a workspace.
Made from high-quality materials, this table is built to last and withstand daily wear and tear. The sturdy legs and solid construction ensure stability and durability, while the smooth surface makes it easy to clean and maintain.
With its charming and timeless design, this 8ft Farm Table adds a touch of warmth and elegance to any room. Whether you're looking to entertain guests or simply enjoy a cozy meal with your family, this table is the perfect centerpiece for your home.