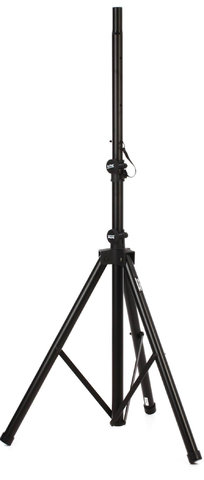 Telescoping Speaker Stand




Daily Rate



$7.99



Weekend Special

To receive the Weekend Special Rate:

Select Saturday 8 a.m., multi-day, Sunday 8 p.m.

We will deliver on Friday and pick up on Monday

$8.79




Introducing our Telescoping Speaker Stand, the perfect solution for any event or performance that requires a reliable and adjustable stand for your speakers. Made with durable materials and designed to hold up to 100 pounds, this stand is perfect for any speaker up to 6 feet tall.
The stand features a telescoping design that allows for easy height adjustment, with a maximum height of 6 feet and a minimum height of 3 feet. This makes it easy to adjust to the perfect height for your event or performance, ensuring that your audience can hear every word and note with clarity.
The Telescoping Speaker Stand also features a sturdy base with non-slip feet, ensuring that your speakers stay in place and don't wobble or tip over during use. The stand is easy to set up and take down, making it perfect for use at events, concerts, conferences, and more.
Whether you're a professional musician, public speaker, or event planner, our Telescoping Speaker Stand is the perfect solution for your audio needs. With its durable construction, adjustable height, and easy setup, you can trust that your speakers will be securely mounted and ready to deliver high-quality sound to your audience.