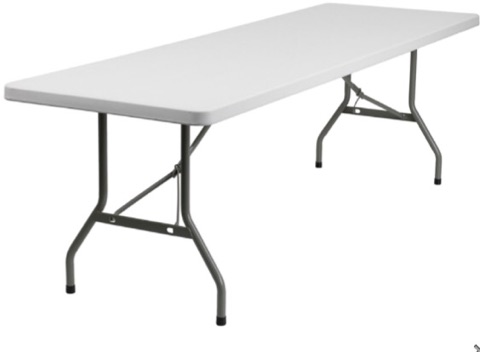 8ft Table




Regular 6 Hour



$9.99



Weekend Special

Select Saturday 8 a.m., multi-day, Sunday 8 p.m. to get the weekend special. We will deliver on Friday and pick up on Monday

$19.98




Looking for a sturdy and versatile table for your next event or gathering? Look no further than our 8ft table! This table is perfect for hosting large groups, whether it be for a family dinner, a company meeting, or a community event.
Crafted from high-quality materials, this table is built to last. Its durable surface can withstand heavy use and is easy to clean, making it ideal for both indoor and outdoor settings.
With its ample size, this table can comfortably seat up to 10 people, providing ample space for meals, games, or work. And when the event is over, this table can be easily folded up and stored away, taking up minimal space until it's needed again.
So if you're looking for a reliable and versatile table that can handle any occasion, the 8ft table is the perfect choice for you!