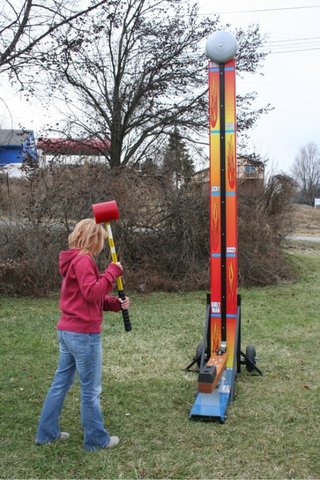 Hi Striker




Daily Rate



$85.99



Weekend Special

To receive the Weekend Special Rate:

Select Saturday 8 a.m., multi-day, Sunday 8 p.m.

We will deliver on Friday and pick up on Monday

$144.58




The Hi Striker is the ultimate test of strength and skill at any carnival or event and is recommended for ages 10 and under. This classic game features a tall tower with a bell at the top, and players use a mallet to strike a lever that sends a puck up the tower. The goal is to hit the bell at the top, indicating a successful strike.
This game is perfect for all ages and can be enjoyed individually or as a competition between friends and family. It is a great addition to any party or event, providing hours of entertainment and friendly competition. The Hi Striker is also a great way to showcase strength and skill, making it a popular attraction at fairs, carnivals, and festivals.
Constructed with durable materials, the Hi Striker is built to withstand heavy use and can be easily set up and taken down for transportation. It is sure to be a hit with everyone who tries their hand at this classic game of strength and skill.