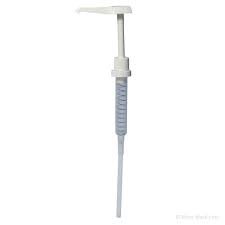 Snow cone syrup pump
Introducing our Snow Cone Syrup Pump, the perfect solution for dispensing your favorite snow cone syrups with ease and precision! This durable and easy-to-use pump is designed to fit most standard 1-gallon syrup bottles and features a long, flexible tube for reaching every last drop of syrup.
With our Snow Cone Syrup Pump, you can say goodbye to messy spills and sticky hands. Simply attach the pump to your syrup bottle, press down on the handle, and watch as the perfect amount of syrup is dispensed onto your snow cone or shaved ice. The pump's adjustable nozzle allows you to control the flow of syrup, so you can customize the amount to your liking.
Made from high-quality materials, our Snow Cone Syrup Pump is built to last and is easy to clean. It's the perfect accessory for any snow cone or shaved ice stand, concession stand, or home kitchen. Order yours today and start enjoying mess-free, perfectly portioned snow cones!